The Health Sciences Library is pleased to announce a new exhibit!
 For All the People: A Century of Citizen Action in Health Care Reform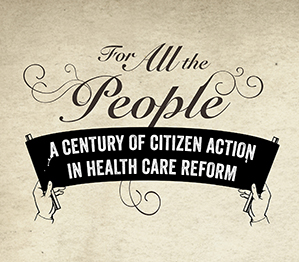 Please join us for a reception on December 6, at 3:00pm in the Skyline Cafeteria Annex GS-F40, featuring an introduction by Marie T. Ascher, M.S., M.P.H., Lillian Hetrick Huber Endowed Director, followed by a lecture, Obamacare and Beyond by Adam Block, Ph.D., Assistant Professor of Public Health in the Division of Health Policy and Management in the School of Health Sciences and Practice at New York Medical College.
Dr. Block is a health economist with experience in the hospital, health plan and government sectors. He has research interests in how individuals make decisions in health care markets and his research activities focus on patient selection of hospitals, patient selection of insurance plans and diffusion of innovation in the market. Dr. Block spent several years developing the legislation on the Affordable Care Act, as an Economist at the Congressional Joint Committee on Taxation, and subsequently wrote regulations and regulatory impact analyses for key parts of the Affordable Care Act.
Light refreshments will be served.
The exhibit is on campus from November 19, 2018 – January 6, 2019 at the following locations:
November 19 – December 5: School of Health Sciences & Practice 
December 6 – 17: Skyline Building
December 18 – January 6: Basic Sciences Building
The exhibit was created by the National Library of Medicine, National Institutes of Health and is brought to you by the Health Sciences Library.